Take your trading to the next level.
Online trading pioneers since 1999, combining premium services with competitive pricing, including free-commission trades on Shares CFDs and no additional charges on stock prices, market spread only.

GLOBAL TRADING
Access 26 global markets and trade 20,000+ financial instruments Worldwide.

PREMIUM PLATFORMS
3 platforms with powerful trading tools and a wide range of news and analysis.

CONVENIENT PRICING
Low fees and spreads, £0 commission and no markup on Share CFDs.

SOLID AND SAFE
Healthy bank with 20 years of history and 30+ mln orders processed every year.
Trade everything, in one place.
Powerful multi-currency platforms, low fees and reliable execution.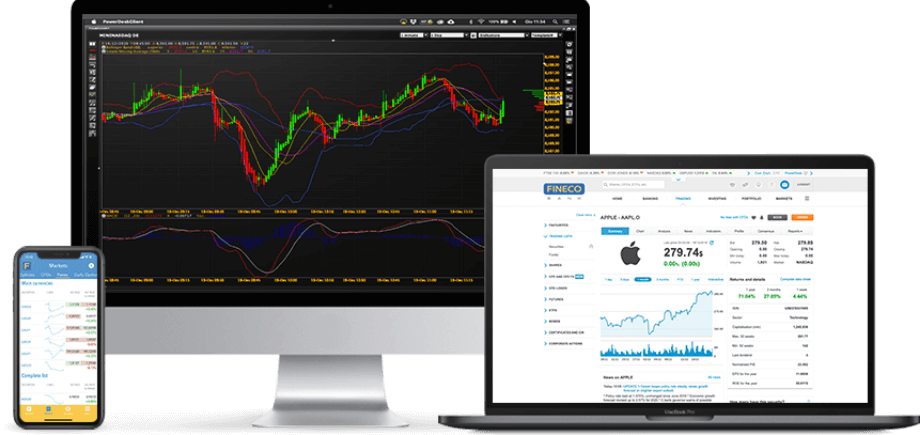 4.6
+ 210,000 reviews
Apple Store | Google Play
Awesome Platform
by KB
Fineco is a very good platform. It is pretty much a one stop shop for all your trading needs.
Comprehensive app
by Ale
I use it everyday to check balance, buy/sell stocks, market trends, news, money transfer.
Intuitive interface
by DL
Simplistic Banking finally! With all features including forex trading, all under one hood.
Professional tools
Free UK, EU and US live quotes
Professional charting system
Stock order books on 5 levels
Reuters and MF-DJ Real-time news
Risk management: stops and limits
Economic events calendar
Global trading
CFDs on Shares, Forex and Indices
UK and Global Shares and ETFs
Forex: 50+ pairs and 24/7 trading
Options on S&P, Nasdaq, DJ, Russel
Commodities on oil, metals, energies
Futures on CME, EUREX & IDEM
It's a trading revolution.
Free-commission trades on Shares CFDs, with no additional spread. And much more.
Shares CFDs
No commission
£
0
Futures
Commission as low as
$
0.7
Indices CFDs
Spread as low as
0.4
pips
fx
Spread as low as
0.8
pips
Be aware of unexpected fees.
Our CFD prices are identical to the stock exchange. Some brokers do not charge commissions, but they might include dealing charges as spread to the price.
 
UK shares CFD
£ 0

0,10%

min £10

0,10%

min £9

0,10%

min £8
USA shares CFD
$ 0

2 cents

min £15

1-4 cents

min $10

2 cents

min $10
EURO Shares CFD
€ 0

0,10%

min €10

0,10%

min €9

0,10%

min 10/12€
Data taken from competitor websites. All data refer to standard fee rates updated at 09/03/2020.
Trade without surprises. £0.00 monthly fee, no custody fees, no minimum deposit, no inactivity charges, no market connectivity costs.

Travel with no boundaries.
Get your Debit card and access smart banking services without borders.
Free Debit card in EUR or GBP
Free withdrawals in EU with EUR card
Instant transfers and bill payments
Discover banking
Start trading today.
Join us and start trading without compromise
Low fees and tight spreads
Fully equipped platforms
Multicurrency account
Solid and reliable bank
This advertising message is for promotional purposes only. To view all the terms and conditions for the advertised services, please refer to the fact sheets and documentation required under current regulations. All services require the client to open a Fineco current account.
AWARD DETAILS
Customer Satisfaction: Kantar TNS – December 2018
No. 1 Bank in Europe for online trading (for Executed orders) / The most used platform in Europe – Source: Main European brokers balance sheets 2016 (Comdirect, ConsorsBank).
The most recommended bank – Source: The Boston consulting Group "What really shapes the Customer Experience" Research 2015 Best Digital Bank in Italy – Source: Global Finance Award, financial magazine – 2016.
World Finance 100 Award - Source: The international magazine World Finance 100 positioned Fineco amongst the top 100 corporations of 2015, from a selection of 17 banks at a global level.
Solid and reliable Bank: Fineco is the top-ranked Italian bank on the FTSE Mib in terms of capital ratio
Contracts For Difference (CFD) trading is available to clients following the assessment of their knowledge of derivative instruments and the subscription of the Derivative Trading Contract.
CFDs (Contracts for Differences): a CFD is a financial derivative, which you can buy or sell with FinecoBank as your direct counterparty. Its value is directly related to that of an underlying asset (securities, indices, currencies, futures on bonds, futures on volatility indicators and futures on commodities) and consequently follows the price movement in the underlying asset. In particular, in CFD trading your profit/loss is given by the difference in value between the opening price and the subsequent closing price of the contract. The opening price and the closing price are determined by the Bank applying, if appropriate, a mark-up or a spread on the underlying price to the extent indicated by the economic conditions at the time. CFDs are characterized by a strong leverage effect. This means that a relatively small price movement in the underlying market will have a proportionally higher impact on the value of your margined position and an unfavourable price movement may result in losses exceeding your initial margin deposit (increasing underlying price for short positions, decreasing for long positions). CFD Positions open for more than a working day (overnight) are subject to a multi-day position fee.
CFDs are complex instruments and come with a high risk of losing money rapidly due to leverage. 69.98% of retail investor accounts lose money when trading CFDs with this provider. You should consider whether you understand how CFDs work and whether you can afford to take the high risk of losing your money.
Before trading CFDs, please read carefully the Key Information Documents (KIDs) available on the website finecobank.com/uk.
2 CFDs at zero commissions and zero markup, you only pay the spread
Funds dealing: to learn about all risks, costs and funds nature please read the KIDS and the offer prospectus available on finecobank.com  as well as on the website of the company offering the UCITS units/shares before proceeding. Past performance is not indicative of future returns. The performance of funds and benchmarks, where present, is gross of tax.
No annual fees for the first card for each account holder; £9.95 annual fee for the second card; £2.95 card shipping cost. The ATM provider may charge additional withdrawal fees. Fineco will not charge any fees for transactions or withdrawals made in the currency of your card. With Fineco's EUR Visa Debit Card, your EUR purchases and withdrawals are debited directly on your EUR account, so you have no exchange rate commissions.