With Digital Payments the payment revolution has arrived.
Explore the services and simplify your payment experience, making it even smarter, faster and more secure. All you need is a Fineco card, a smartphone or smartwatch and a compatible POS.




Fineco with Apple Pay
A safer, contactless way to pay.
With Fineco and Apple Pay, now making purchases and paying in stores, online and in apps with your Fineco card is contactless, safe and easy.
If you've never made a contactless payment with Apple Pay, it's simple to activate it on Fineco cards before you live home to shop in stores, apps ans on the web with a touch or a glance.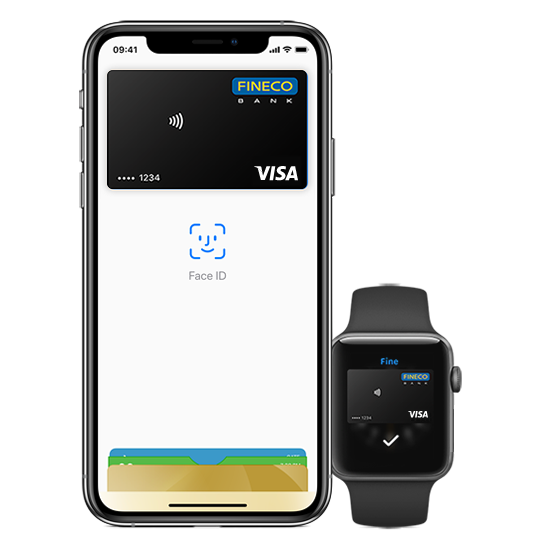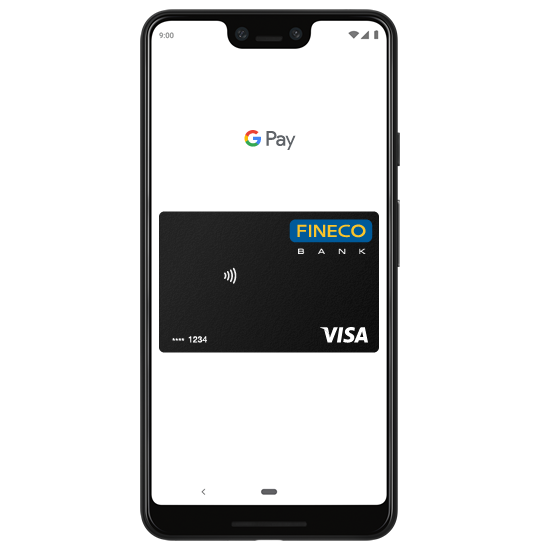 Pay contactless with Google Pay
A fast, simple and more secure way to pay.
If you have a smartphone or smartwatch with an Android operating system, with Fineco and Google Pay™ making payments is even faster and easier. Just open the Play Store and download the Google Pay app.
Once you've added your Fineco card, you'll be ready to shop on websites, in apps and stores simply by using your device.
Fitbit Pay: it's all in the wrist!
Access your Fineco cards anywhere.
Fitbit Pay puts your wallet on your wrist. Pay for items in seconds without a card or smartphone. Simply swipe your Fitbit compatible smartwatch* across any contactless POS and the transaction is done.
So you can travel even lighter, heading out with just your watch!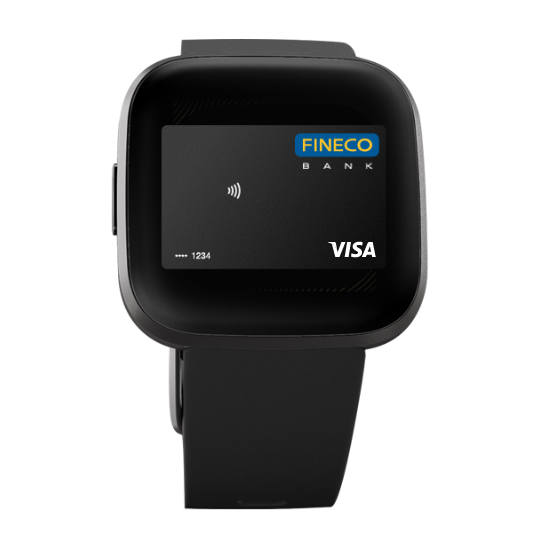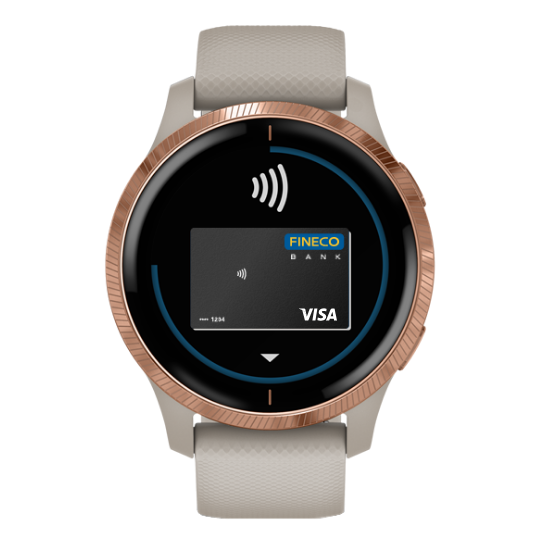 Garmin Pay: the wearable revolution
Run at the speed of contactless.
With Garmin Pay you don't need smartphones, cards or cash. You just need a Garmin smartwatch to make payments on a contactless POS.
So you can leave the house lighter and keep your pace up. Even when you're at the gym, you can grab a snack at the café and pay at contactless speed.
This advertising message is for promotional purposes only. To view all the terms and conditions for the advertised services, please refer to the fact sheets and documentation required under current regulations. All services require the client to open a Fineco current account. All products and services offered are dedicated to Fineco account.
Apple Pay is compatible with enabled Apple devices. For further details please visit Apple website. Before paying, it is necessary to add the cards to the Wallet as specified on the dedicated Apple website. Apple, the Apple logo and Apple Pay are trademarks of Apple Inc., registered in the USA and in other countries.
Google Pay™ is compatible with all Android smartphones, starting with version 5.0 (Lollipop) or later. You can also use Google Pay on smartwatches with Google Wear compatible OS. To pay in stores, the smartphone must be equipped with NFC technology. For further information, please consult Google Support page. Your card information is not stored on the device or transmitted during payment. It is important to know that by activating Google Pay, as per the Google policy, you consent to making the data on transactions made with your payment card through Google Pay available to Google itself. For the conditions and purposes of data use please consult the Google Payments Terms of service and Privacy Policy and the Terms and Conditions of the service provided by Fineco Bank upon activation of the service.
Fitbit Pay is compatible with devices listed on Fitbit website.
Garmin Pay is compatible with devices listed on Garmin website.