We are online trading lovers.
All our platforms are designed and built in-house and are currently handling 75.000 executed orders on a daily basis (that's over 27mln every year).
PowerDesk.
Advanced trading platform
Powerful, fast and customisable work station, accessible anytime on any browser.
Free and easy to use.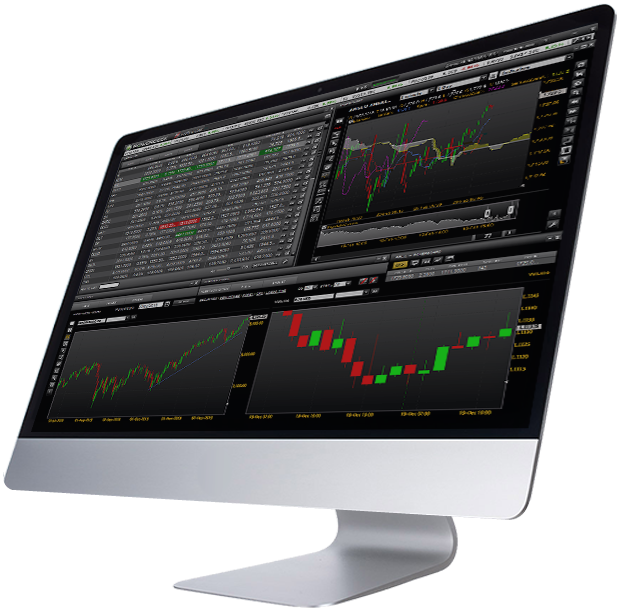 One screen, one full suite for your trading.
Live prices
Intuitive chart trading
+6,000 real time news per day
Push notifications
Automatic orders
Personalised dashboards
Technical analyses & historical reports
Personalised listings
Multi-charts
Economic calendar
Web platform.
Simply access your account to trade the markets. A smart and innovative trading room is ready for you.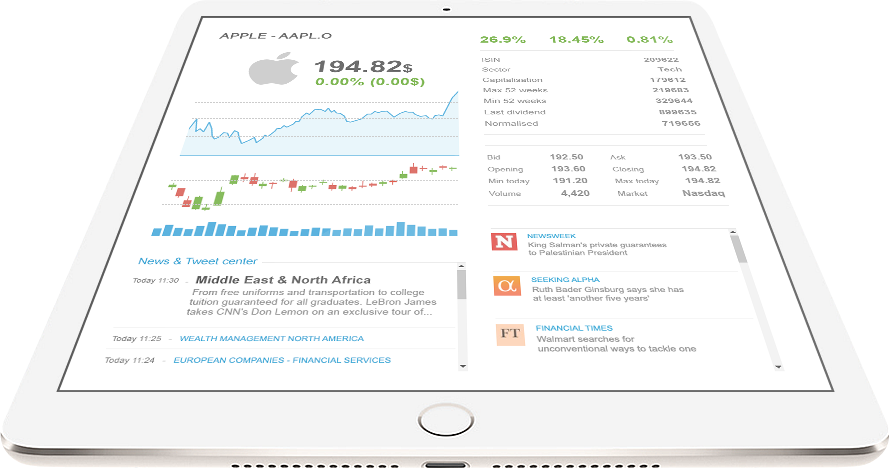 Detailed snapshot
A complete overview on every security, with live quotes, main figures, detailed reports, data sheets and analyst's recommendations.
Free quotes and deep book
Free streaming quotes for UK, EU and US markets with 5- levels order book.
Stock screener
Explore the markets with ease using the intuitive search option. You can also easily find securities by typing in just the first few letters.
Interactive charts
Professional charting system with customisable timeframes and over 90 technical indicators and data export, free of charge.
Mobile trading.
Trade all products anywhere with our top rate Fineco App: mobile streaming quotes and news, live P&L updates and customisable interactive charts.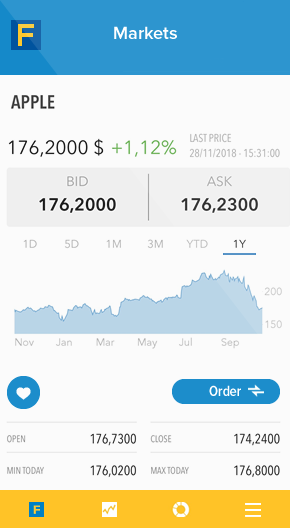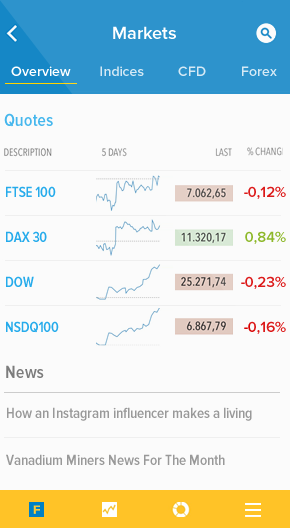 Trade like a local, with worldwide currencies.
Thinking about buying a global brand's shares?
Acces world markets in the local currency, without conversion fees, spread only.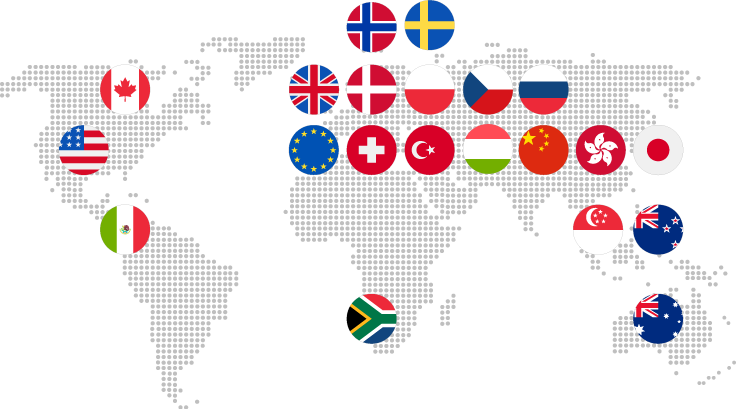 GBP, EUR, USD, CHF and 20+ currencies.
No currency conversion fees, spread only.
Real time exchange and no account fees.
Premium products, at a catchy price.
Yes, we can.
Shares CFDs
No commissions
£0
on UK, US and EU Shares CFDs, no additional spread
Futures
Commission as low as
$0.7
on CME Micro Futures and €0.75 on Mini DAX
Indices CFDs
Spread as low as
0.4pips
on S&P 500, 0.6pip on Nasdaq 100 and FTSE 100
FX
Spread as low as
0.8pips
on EUR/USD. Trade 50+ FX worldwide pairs
Meet our trading specialists.
Trading Events and courses.
Webinars to learn online.
Video Library, on-demand.
This advertising message is for promotional purposes only. To view all the terms and conditions for the advertised services, please refer to the fact sheets and documentation required under current regulations. All services require the client to open a Fineco current account.
1 CFD are excluded from the offer of 100 commission-free trades.
Contracts For Difference (CFD) trading is available to clients following the assessment of their knowledge of derivative instruments and the subscription of the Derivative Trading Contract. CFDs (Contracts for Differences): a CFD is a financial derivative, which you can buy or sell with FinecoBank as your direct counterparty. Its value is directly related to that of an underlying asset (securities, indices, currencies, futures on bonds, futures on volatility indicators and futures on commodities) and consequently follows the price movement in the underlying asset. In particular, in CFD trading your profit/loss is given by the difference in value between the opening price and the subsequent closing price of the contract. The opening price and the closing price are determined by the Bank applying, if appropriate, a mark-up or a spread on the underlying price to the extent indicated by the economic conditions at the time. CFDs are characterized by a strong leverage effect. This means that a relatively small price movement in the underlying market will have a proportionally higher impact on the value of your margined position and an unfavourable price movement may result in losses exceeding your initial margin deposit (increasing underlying price for short positions, decreasing for long positions). CFD Positions open for more than a working day (overnight) are subject to a multi-day position fee. CFDs are complex instruments and come with a high risk of losing money rapidly due to leverage. 69.17% of retail investor accounts lose money when trading CFDs with this provider. You should consider whether you understand how CFDs work and whether you can afford to take the high risk of losing your money. Before trading CFDs, please read carefully the Key Information Documents (KIDs) available on the website finecobank.com/uk
2 CFDs at zero commissions, you only pay the spread
3 Stop-loss orders automatically close a trade at your predetermined price if the market moves against your position. If your trade was a buy then a sell stop-loss order can be instructed at a level below the current market price. If the market falls to your predetermined stop-loss level, then your order becomes live and your trade is closed at the next available price. If your trade was a sell then a buy stop-loss order can be instructed at a level above the current market price. If the market rises to your predetermined stop-loss level, then your order becomes live and your trade is closed at the next available price.
4 Amount of trading commissions accrued in a month: Up to £499: UK shares and ETFs, Bonds (MOT/EuroMOT - EuroTLX e HI-MTF, Euronext), Fixed fee: £6.95; Europe shares and ETFs (EquiductGermany, Xetra, Equiduct France, Netherlands, Portugal, Euronext, Italy) Fixed fee: €6.95; USA shares and and ETFs (Nyse, Amex, Nasdaq) Fixed fee: $6.95. Over £500: UK shares and ETFs, Bonds (MOT/EuroMOT - EuroTLX e HI-MTF, Euronext), Fixed fee: £3.95; Europe shares and ETFs (Equiduct Germany, Xetra, Equiduct France, Netherlands, Portugal, Euronext, Italy) Fixed fee: €3.95; USA and ETFs (Nyse, Amex, Nasdaq) Fixed fee: $3.95. The fees applied on the bond markets are expressed in GBP but charged on the Multicurrency Sub-Account of the settlement currency. For transactions executed on specific markets, you may incur additional taxes or fixed fees related to the single market. See the fact sheets for further details.
5 For commercial conditions for securities lending pleas refer to the terms and conditions.
6 No. 1 Bank in Europe for online trading (for Executed orders) / The most used platform in Europe – Source: Main European brokers balance sheets 2016 (Comdirect, ConsorsBank).
7 Date of comparison: 1 January 2018. This comparison table does not take into account possible discounts investors can qualify for if they perform a certain number of transactions with different brokers. The exact discounts can be found on the websites of the different providers. In addition, some brokers can choose a different profile where the costs differ from the amounts shown above, but there is usually a higher fixed fee in return. The above is only a comparison by price. Other matters may also be of importance to a comparison. For example, different parties may offer additional services. Prices are subject to change and correct at time of comparison.
8 Renminbi that customers hold, trade or use for payments outside of mainland China are considered offshore Renminbi (CNH). ISO code CNY must be used in customers' payment orders, transaction statements and account information. Please note that "CNH" is not registered as a code with the International Organization for Standardization (ISO). Therefore, it's not used in payment services or for account information.