Say hello to a premium trading experience
All our online trading platforms are designed and developed in-house, covering your trading needs from one account.
POWERDESK
Our advanced and intuitive trading platform, fully customisable.
WEB TRADING and investing
Trade financial markets and invest with funds, bonds and ETFs.
MOBILE TRADING APP
On-the-go trading and investing with our premium app.
stock SCREENERS
Navigate financial markets with intuitive search and pre-set filters.
PowerDesk: designed for top performance
Winner of 'Best Trading Platform' at the 2021 2020 London Trader Show - PowerDesk is a professional, powerful, fast and customisable workstation, created exclusively for Fineco clients.
Bring the trading floor with you - at home or on the go
You can trade thousands of products - including Shares, CFDs, FX, ETFs, Futures, Bonds, Options and other financial instruments worldwide.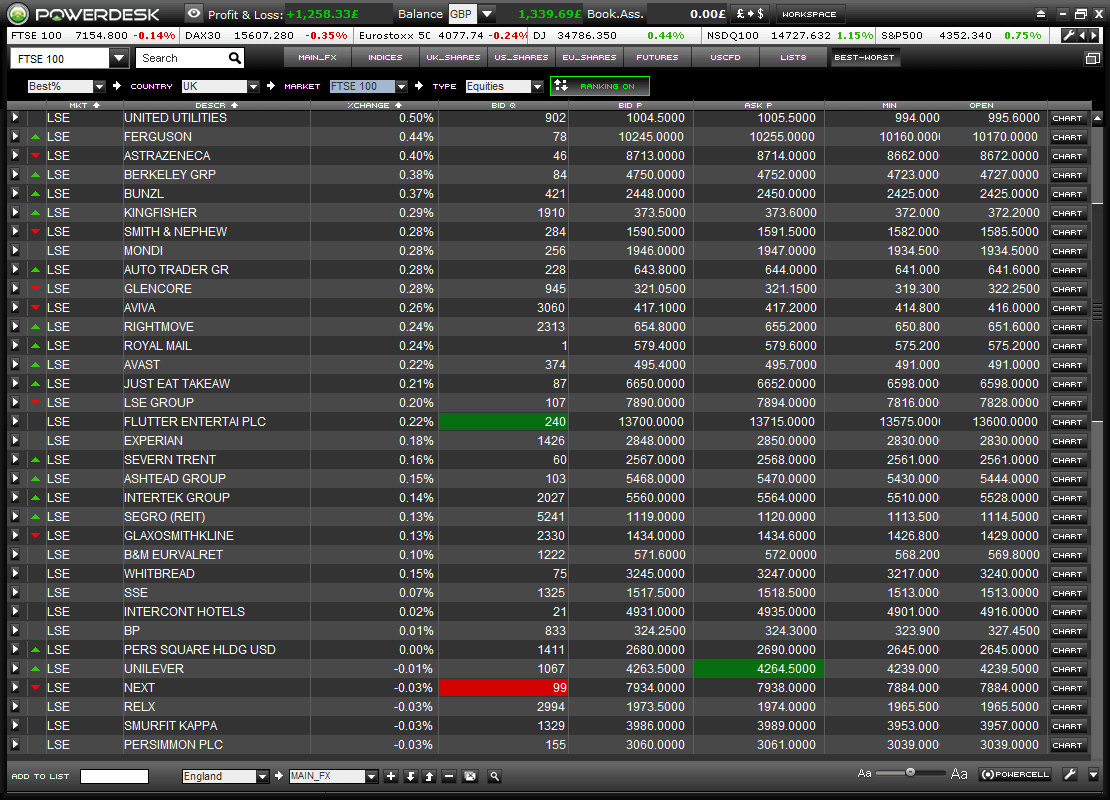 Create and save your personalised work station settings.
Easy and intuitive website trading
Whether you've just started your trading journey, or you are an experienced trader looking to seize new opportunities, our slick and easy-to-use trading room awaits.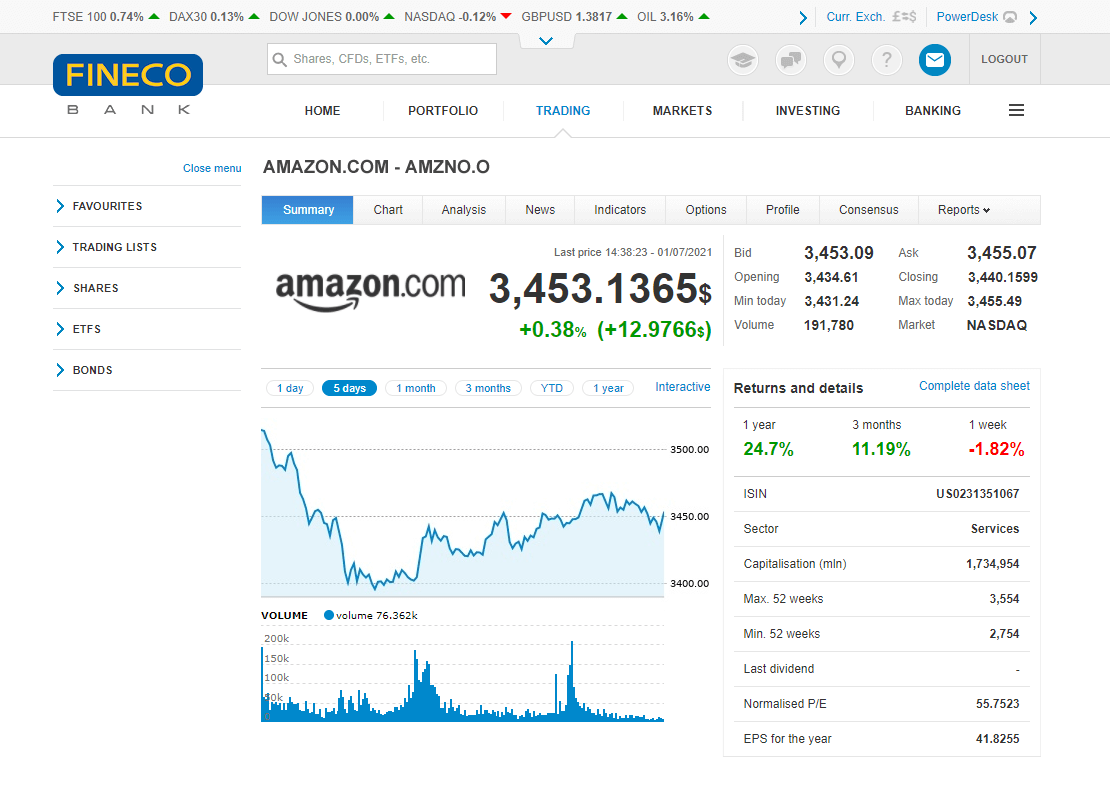 Detailed snapshot. A complete overview of all your assets on one single screen - with live quotes, detailed reports, data sheets and analyst recommendations.
Advanced trading, pocket-sized
Trade and invest wherever and whenever you want with our premium app - including mobile streaming quotes and news, live P&L updates and customisable charting.
Mobile trading features
Get a holistic picture of your finances on the go. Trade more than 20,000 financial instruments, buy and sell funds, get mobile alerts and check your balance. Anytime, any place.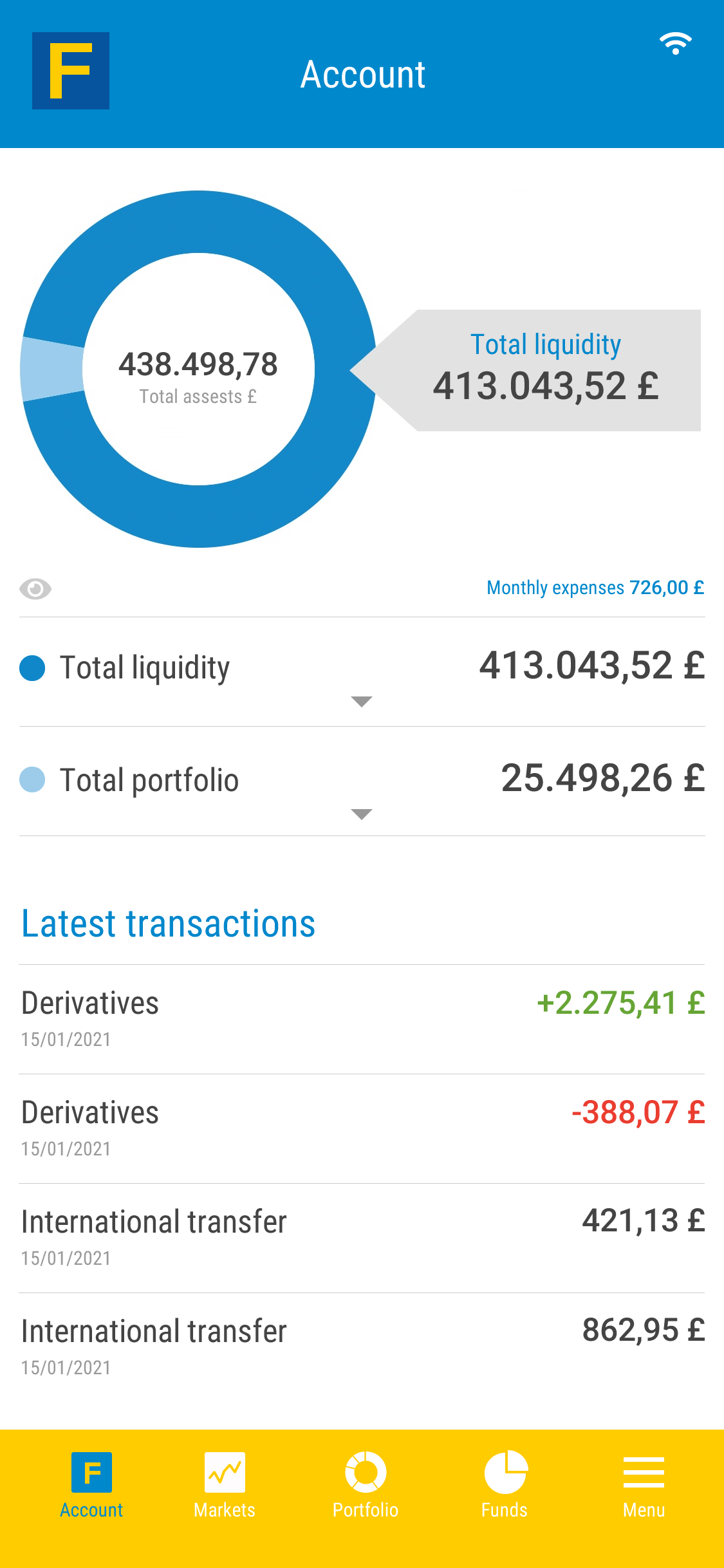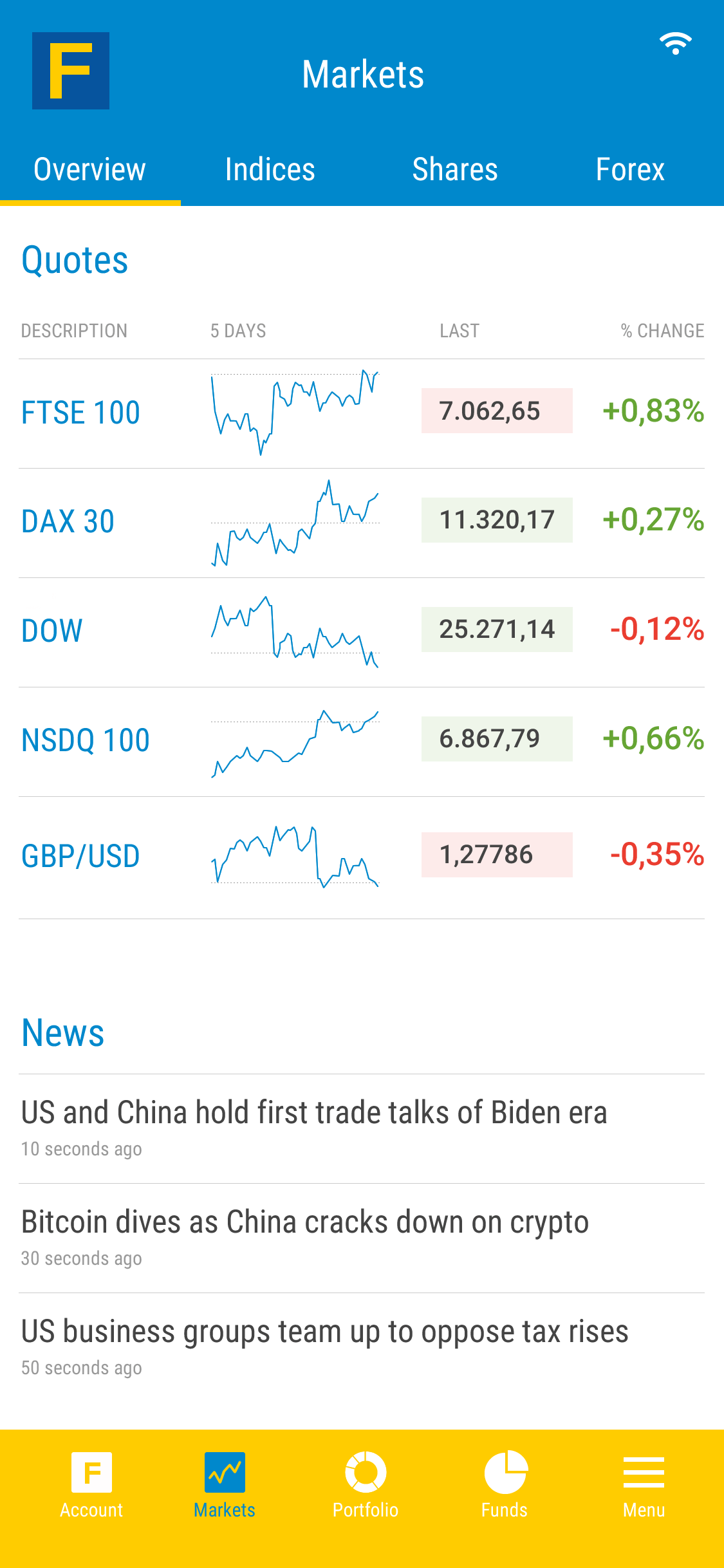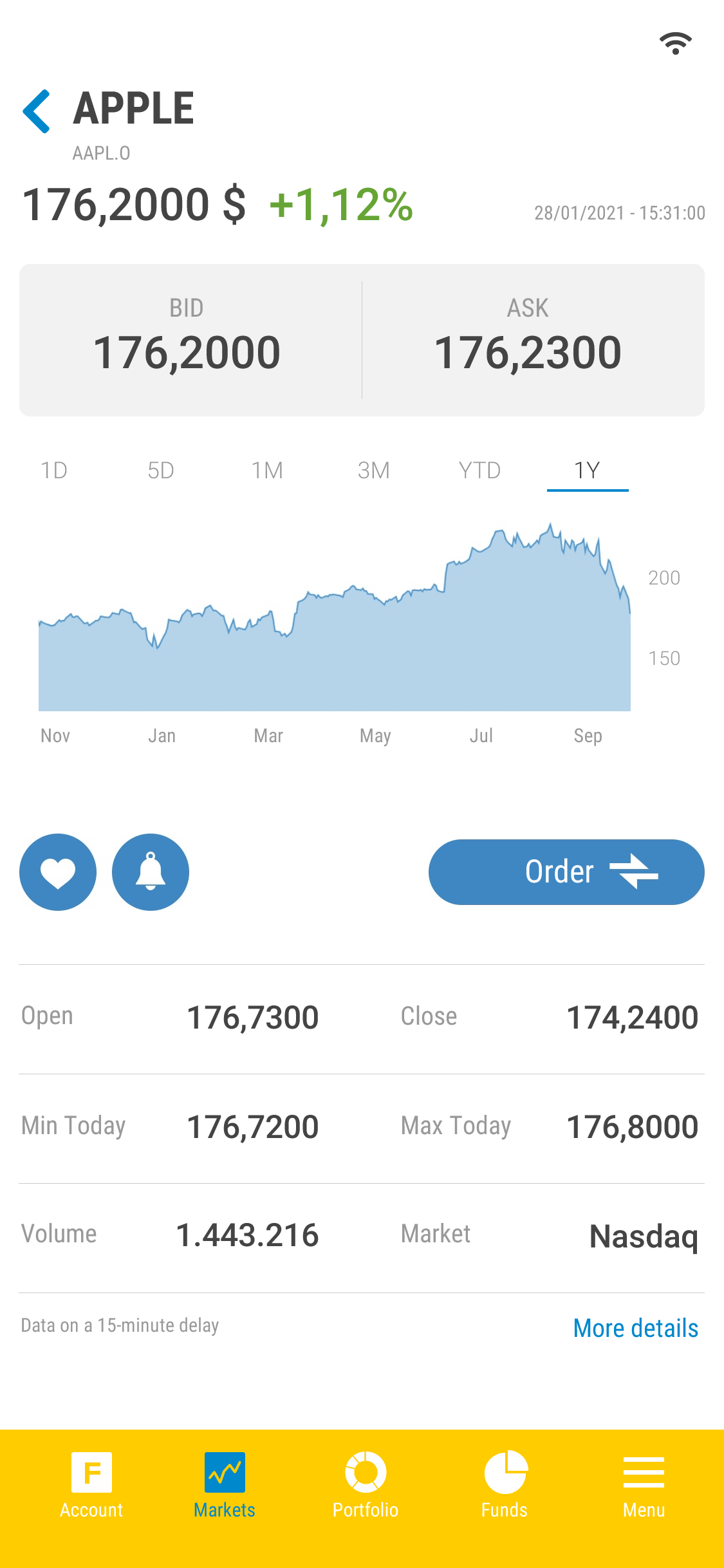 Trade and invest from anywhere in the world. Access real time prices across thousands of products, with live P&L updates and economic data. Buy, sell and check funds with your smartphone. Stay connected to your portfolio anytime, anywhere. You can buy and sell funds, ETFs and shares. Plus, all dividends and coupons you'll receive for your bonds, government bonds and funds, can be in the benchmark currency to avoid exchange rate fluctuations.
Screen the markets with confidence and ease
Our smart stock screeners provide intuitive search and pre-set filters to help you find the companies to suit your trading strategy, across global markets.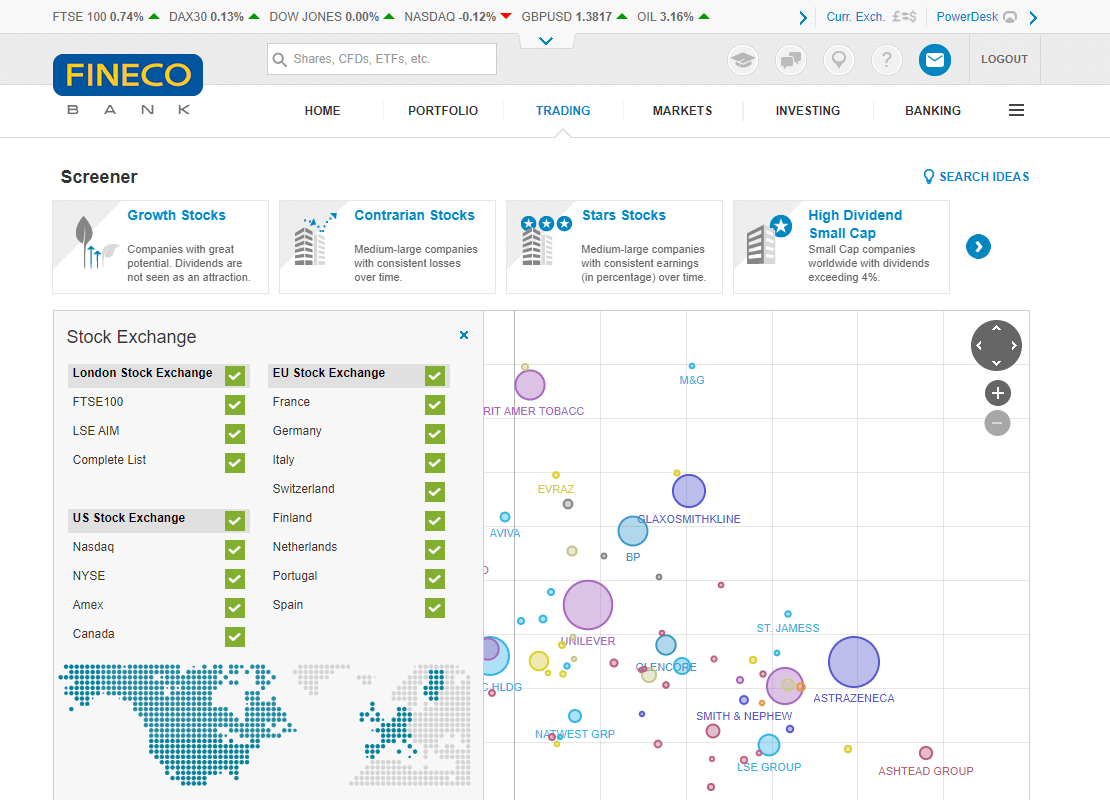 Intuitive search option.

2022 & 2021
Best broker for Global Trading
ADVFN International Financial Awards

2022 & 2021
Best Live Trading Events
ADVFN International Financial Awards

2022
ONE OF WORLD'S BEST BANK
Forbes

2020
Best Trading Platform
London Forex Show
news

room

Visit our Newsroom page today to get all the insight and knowledge you need to complement your trading strategy.
This advertising message is for promotional purposes only. To view all the terms and conditions for the advertised services, please refer to the fact sheets and documentation required under current regulations. All services require the client to open a Fineco current account. All products and services offered are dedicated to Fineco account.
Derivatives trading is available to clients following the assessment of their knowledge of derivative instruments and the subscription of the Derivative Trading Contract.
Before trading CFDs, or other derivatives instruments please read carefully the Key Information Documents (KIDs) available on the website finecobank.co.uk
A CFD is a financial derivative, that you can buy or sell with FinecoBank as your direct counterparty. Its value is directly related to that of an underlying asset (securities, indices, currencies, futures on bonds, futures on volatility indicators and futures on commodities) and consequently follows the price movement of the underlying asset. In particular, when CFDs trading your profit/loss is given by the difference in value between the opening price and the subsequent closing price of the contract. The opening price and the closing price are determined by the Bank applying, if appropriate, a mark-up or a spread on the underlying price to the extent indicated by the economic conditions at the time. CFDs are characterised by a strong leverage effect. This means that a relatively small price movement in the underlying market will have a proportionally higher impact on the value of your margined position and an unfavourable price movement may result in losses exceeding your initial margin deposit (increasing underlying price for short positions, decreasing for long positions). CFD Positions open for more than one business day (overnight) are subject to a multi-day position fee.
The spreads applied to CFDs may be changed at any time within the contractually agreed limits.
CFDs are complex instruments and come with a high risk of losing money rapidly due to leverage. 70.82% of retail investor accounts lose money when trading CFDs with this provider. You should consider whether you understand how CFDs work and whether you can afford to take the high risk of losing your money.
Before trading CFDs, please read carefully the Key Information Documents (KIDs) available on the website finecobank.com/uk
Sources: Where not expressly indicated, sources are taken from internal FinecoBank processing.
Solid and reliable Bank: Fineco is the top-ranked Italian bank on the FTSE Mib in terms of capital ratio.
FORBES WORLD'S BEST BANK 2022: In the Forbes Oscars of the banking world, we came out on top:
Best Italian Bank 2022 - https://www.forbes.com/lists/worlds-best-banks
2022 Best broker for Global Trading and Best Live Trading Event: ADVFN International Financial Awards
Recognised and awarded for best platform and provider of the year - Source: ADVFN International Financial Awards